GJ

Gard­ner Homes Wins

HIA

Home Of The Year Award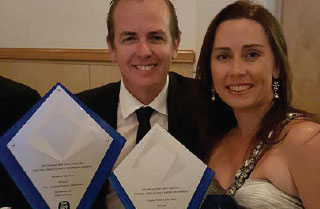 Hus­band and wife Scott and Kim Under­wood were the inno­v­a­tive minds behind 2015's HIA Home of the Year award for their stun­ning dis­play home in the pre­mium estate of For­est Springs, Gladstone.
With more than 23 years of expe­ri­ence in the build­ing indus­try, Scott and Kim Under­wood pro­vide the solid foun­da­tions of market-​leading qual­ity, ser­vice and value to fam­i­lies look­ing to build a new home in the Glad­stone region.
"We are proud to be a local builder in the dis­play vil­lage and show off our fan­tas­tic designs and homes for real people.
With over 100 inno­v­a­tive designs to choose from, we will almost cer­tainly have a design that will sat­isfy your indi­vid­ual needs.
If not, we are flex­i­ble and can adjust our plans to suit your needs, or you can even bring in your own plan."
"As a local builder who is cur­rently con­struct­ing homes in For­est Springs Estate we would like to encour­age peo­ple to con­sider build­ing in the new release.
The new blocks are large and cur­rent mar­ket val­ues are favourable in this area.
GJ Gard­ner Homes is able to assist with the land and the home package.
We work with the Land Sales Office Team closely and offer finance assistance.
The key is how to approach the whole package".
We'd love you to drop by and see our spa­cious and inno­v­a­tive home.
It's a great value fam­ily home and peo­ple just love the beau­ti­ful out­door pool area.
Our staff is friendly and open to dis­cuss all build­ing ideas.
Visit our dis­play at 12 For­est Springs Drive.
We are open 7 days a week till 5pm.