For­est Springs puts local com­mu­ni­ties needs first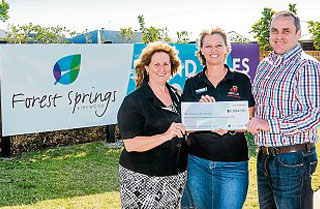 There is a per­cep­tion that there is an enor­mous amount of prop­erty for sale in Gladstone.
The facts are some­what dif­fer­ent, accord­ing to For­est Springs devel­op­ment man­ager Cal­lum McAusland.
"While there are over 1200 prop­er­ties for sale, only 720 are detached dwellings," he said.
"The remain­der are apart­ments, town houses, units, acreage, rural and so on.
"Of the 720, about 60% are over 12 years old or built dur­ing the influx of invest­ment builders in the last four to five years. Those prop­er­ties tend not to sell quickly."
Mr McAus­land said while the prop­erty mar­ket had been slow, it was a good time to buy. "The cur­rent phase of the prop­erty cycle is a buyer's mar­ket," he said.
"If we were talk­ing about a cor­re­spond­ing phase in the share­mar­ket cycle we would con­sider it a good time to buy shares.
"It is also encour­ag­ing that there are a large num­ber of lend­ing insti­tu­tions who are capa­ble and will­ing to do busi­ness with as low as five per­cent deposit and low inter­est rates, which makes the buy­ing propo­si­tion even more attractive.
"We feel that the mar­ket con­di­tions and eco­nomic indi­ca­tors for Glad­stone are positive.
"It's just that Glad­stone is suf­fer­ing from a mod­er­ate case of anx­i­ety after the con­struc­tion work­ers left town and as soon as we stand up and dust our­selves off we'll be stronger than before."
He said the devel­op­ers of For­est Springs had set a good exam­ple plac­ing a high value in employ­ing a local team and local con­trac­tors to man­age the deliv­ery of the estate.
"This allows us to lis­ten to what the peo­ple of Glad­stone want – and deliver on that," he said.
"It also allows us the oppor­tu­nity to mean­ing­fully engage with our com­mu­nity, recently host­ing a Fam­ily Fun Day pro­vid­ing $5000 in prizes, whilst rais­ing $5600 for the Glad­stone School Chap­laincy program.
"This model has helped For­est Springs become the com­mu­nity of choice for local builders to build their dis­play homes.
"We have five oper­a­tional dis­play homes and another four builders have expressed an inter­est. That shows the con­fi­dence the local builders have in our larger, flat easy-​to-​build-​on blocks because it saves the buyer money in the long run.
"Our lat­est release of 21 blocks, The Cas­cades, range in size from 450sq m up to the more pop­u­lar 800sq m lots and even one of 1036sq m to accom­mo­date your shed and pool. This release will be fin­ished in mid­De­cem­ber and sales man­ager Eileen Wood­ward is sell­ing off the plan now."
Mrs Wood­ward said the pre­vi­ous release had been so suc­cess­ful there were only three blocks remain­ing to build a new home on right now.
"This is why I am so excited to bring on our new release and we have inter­est reg­is­ter­ing already," she said.
After the Cas­cades release, For­est Springs doesn't expect to bring on any­more blocks until early 2017.
The For­est Springs mas­ter­planned com­mu­nity extends to both sides of Kirk­wood Rd and includes an approval for a 'bulky goods centre'.
"We see For­est Springs being a hub in its own right, cen­tred around the com­mer­cial retail cen­tre which houses Wool­worths, Cal­tex, McDonald's and other out­lets, includ­ing a child­care cen­tre," said Mr McAusland.
Source: The Glad­stone Observer