Samantha's happy to call For­est Springs home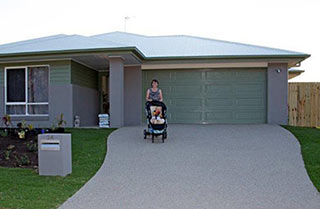 Glad­stone local Saman­tha Parry is part of a grow­ing band of buy­ers who have cho­sen to build a brand new home at For­est Springs.
After vis­it­ing the Aston Milan dis­play home ear­lier this year she fell in love with the neigh­bour­hood and it wasn't long before she decided to build her new home at For­est Springs.
"For­est Springs' con­ve­nient loca­tion close to the CBD was very appeal­ing and it was def­i­nitely a major decid­ing fac­tor when I was look­ing to build. The path­ways, parks and play­grounds in For­est Springs were also impres­sive as they cre­ate a really safe and child friendly neigh­bour­hood for us to raise our five month old son.
"As soon as I walked into the Aston Milan dis­play home at For­est Springs I com­pletely fell in love, it had the per­fect lay­out, was bright and open, and put together really well. It felt like a house we could move into and make a home.
"Michelle Smith from Aston Milan was fan­tas­tic when show­ing us through the dis­play home, she wasn't pushy at all and really lis­tened to what we were after. Now we are build­ing a great house in a fan­tas­tic neigh­bour­hood and we couldn't be hap­pier," Ms Parry added.
Robert Dou­glas from Aston Milan Homes said Glad­stone buy­ers were spend­ing more on their homes than those in South East Queensland.
"On aver­age our home buy­ers in Glad­stone spend around $327,000 on their home when they pur­chase from us, that's a lot more than in most other areas on the state and reflects the fact that these buy­ers are keen to make Glad­stone their long term home," he said.